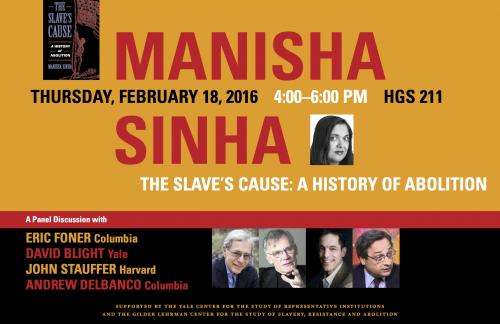 The Yale Center for the Study of Representative Institutions (YCRI) would like to remind you of its upcoming book panel:
The Slave's Cause: A Book Panel Discussion
of Manisha Sinha's New Synthesis of Abolitionism
Please mark your calendars for Thursday, February 18, 2016 from 4:00-6:00pm, and come join us at the Hall of Graduate Studies (HGS), Room 211, 320 York Street, New Haven, for a conversation following the publication of Manisha Sinha's The Slave's Cause. 
Comments will be offered by Eric Foner (Columbia), David Blight (Yale), John Stauffer (Harvard), and Andrew Delbanco (Columbia). 
Please find more information on the YCRI website, or in the attached poster. For inquiries related to the conference, contact the organizer, Ariel Ron (ariel.ron@yale.edu). 
Supported generously by the John Templeton Foundation and the Jack Miller Center.