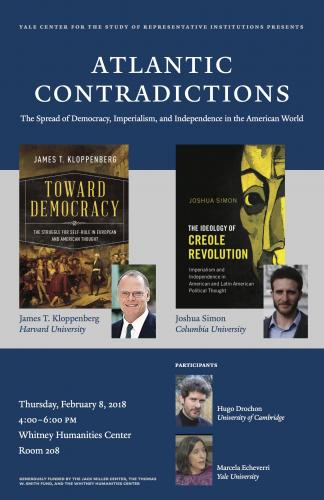 The Yale Center for the Study of Representative Institutions (YCRI) would like to announce an upcoming book conference: 
Atlantic Contradictions: The Spread of Democracy, Imperialism, and Independence in the American World
A Book Panel Discussion of James Kloppenberg's (Harvard), Toward Democracy and Joshua Simon's (Columbia), The Ideology of Creole Revolution
Please join us Thursday, February 8th, 2018 from 4:00-6:00pm at the Whitney Humanities Center, Room 208, for a conversation on these two new exciting contributions to political science and history. 
Comments will be offered by Hugo Drochon (Cambridge) and Marcela Echeverri (Yale), as well as Kloppenberg and Simon. 
This event is funded generously by the Jack Miller Center, the Thomas W. Smith Fund, and the Whitney Humanities Center.