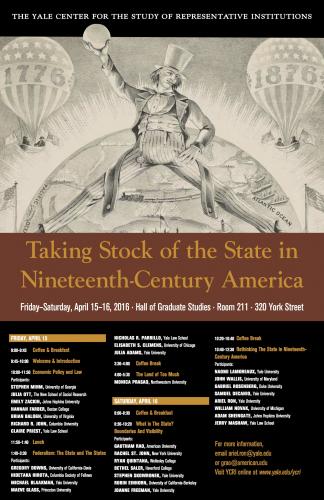 The Yale Center for the Study of Representative Institutions (YCRI) would like to announce its upcoming symposium:
Taking Stock of the State in Nineteenth-Century America
Please mark your calendars for Friday, April 15th, 2016 from 9:00am- 5:30pm and Saturday, April 16th, 2016, from 8:00am-1:30pm, and come join us at the Hall of Graduate Studies (HGS), Room 211, 320 York Street, New Haven. 
Participants include 
Stephen Skowronek (Yale), Richard John (Columbia), William Novak (Michigan), Robin Einhorn (Berkeley), Elisabeth Clemens (Chicago), Brian Balogh (Virginia), Adam Sheingate (Johns Hopkins), Nick Parillo (Yale), Stephen Mihm (Georgia), Naomi Lamoreaux (Yale), John Wallis (Maryland), Gautham Rao (American), Ariel Ron (Yale), Sam DeCanio (Yale), Julia Ott (New School), Bethel Saler (Haverford), Gabriel Rosenberg (Duke), Gregory Downs (UC Davis), Michael Blaakman (Yale), Hannah Farber (Boston College), Maeve Glass (Princeton), Emily Zackin (Johns Hopkins), Hidetaka Hirota (Columbia Society of Fellows), Rachel St. John (NYU), Ryan Quintana (Wellesley), Julia Adams (Yale), Claire Priest (Yale), Joanne Freeman (Yale), and Jerry Mashaw (Yale).
Please find more information on the YCRI website, or in the attached poster. For inquiries related to the conference, contact the organizer, Ariel Ron (ariel.ron@yale.edu). 
Supported generously by the John Templeton Foundation and the Jack Miller Center.