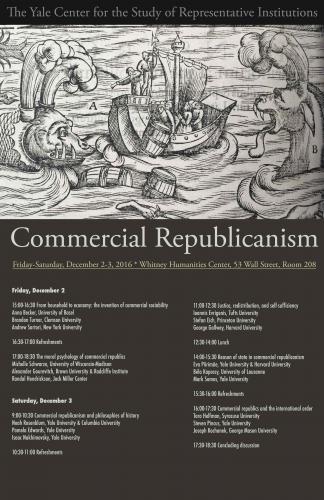 The Yale Center for the Study of Representative Institutions (YCRI) would like to announce an upcoming conference: 
Commercial Republicanism
Please join us Friday, December 2nd from 3:00-6:30pm and Saturday, December 3rd from 9:00am-6:30pm at Whitney Humanities Center, Room 208. 
Participants include: Anna Becker (University of Basel), Brandon Turner (Clemson University), Andrew Sartori (NYU), Michelle Schwarze (University of Wisconsin), Alexander Gourevitch (Brown), Randal Hendrickson (Jack Miller Center), Noah Rosenblum (Yale), Pamela Edwards (Yale), Isaac Nakhimovsky (Yale), Iaonnis Evrigenis (Tufts), Stefan Eich (Princeton), George Gallwey (Harvard), Eva Piirmiae (Yale), Bela Kapossy (University of Lausanne), Mark Somos (Yale), Tara Helfman (Syracuse), Steven Pincus (Yale), and Joseph Kochanek (George Mason).
This event is funded generously by the Jack Miller Center and the John Templeton Foundation.