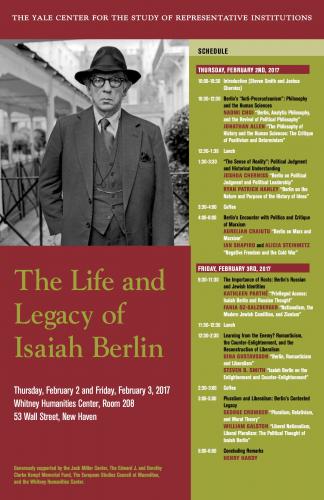 The Yale Center for the Study of Representative Institutions (YCRI) would like to announce an upcoming conference: 
The Life and Legacy of Isaiah Berlin
Please join us Thursday, February 2nd from 10:00am-6:00pm and Friday, February 3rd from 9:30am-6:00pm at Whitney Humanities Center, Room 208. 
Participants include: Steven Smith (Yale), Joshua Cherniss (Georgetown), Naomi Choi (University of Houston), Jonathan Allen (Northern Michigan University), Ryan Patrick Hanley (Marquette), Aurelian Craiutu (Indiana University), Ian Shapiro (Yale), Kathleen Parthé (University of Rochester), Fania Oz-Salzberger (University of Haifa School of Law and Center for German and European Studies), Gina Gustavsson (Uppsala University), George Crowder (Flinders University), William Galston (Brookings), and Henry Hardy (Oxford). 
For inquiries related to the conference, please contact one of our co-directors, Steven Smith (steven.smith@yale.edu).