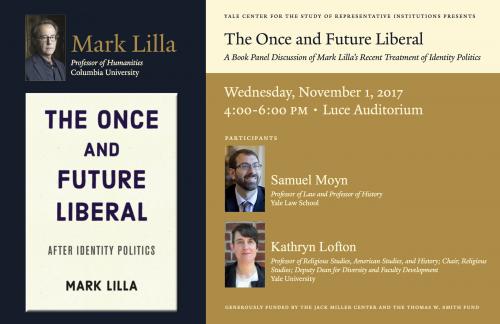 The Yale Center for the Study of Representative Institutions (YCRI) would like to announce an upcoming conference: 
The Once and Future Liberal: A Book Panel Discussion of Mark Lilla's Recent Treatment of Identity Politics
Please join us Wednesday, November 1st, 2017 from 4:00-6:00pm in the Luce Auditorium, 34 Hillhouse Avenue, New Haven, CT, for a conversation on Lilla's new book and the future of identity politics. 
Comments will be offered by Sam Moyn (Yale Law School) and Kathryn Lofton (Yale Religious Studies).
For additional information, please contact one of our YCRI co-directors, Steven Smith (
steven.smith@yale.edu
). 
This event is generously funded by the Jack Miller Center and the Thomas W. Smith Fund.